Ginette Wang
Melbourne, Australia
Artist.Illustrator.Author
Country Leader of International Watercolor Society (IWS) Australia
Ginette is an award-winning artist, illustrator and published author.
She is well-versed in many media in both Western and Chinese paintings. Her paintings are usually done in contemporary and impressionist style with energy injecting in them.
She enjoys travelling and taking inspiration during the journey.
Her paintings have been exhibited and held in private collections internationally.
She has been awarded with an artist residency at Chateau Orquevaux September, 2019
She is also been invited by the Xianyang Culture and tourism Bureau to exhibit at " In Watercolour, we bond!" China New Zealand International Watercolour invitational Exhibition in Auguest, 2019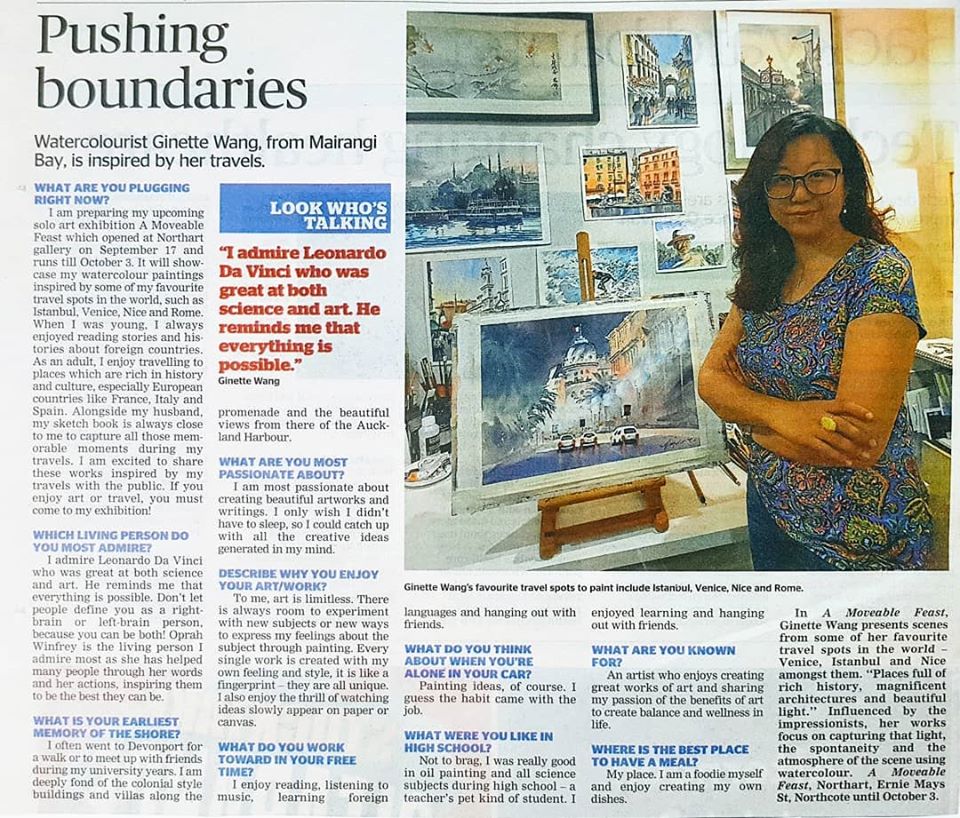 Press release:
Recent Achievements:
Awarded with an Artist Residency at Arte Studio Ginestrelle & Writing residency, Assisi , Italy 2020

Selected artist, "Hello! Hong Kong" International Watercolour Exposition exhibition, Hong Kong 2020

Awarded with an Artist Residency at Chateau Orquevaux, France 2019

Invited artist to exhibit at "In Watercolour, we Bond!" China New Zealand International Watercolour Exhibition. Xianyang, China 2019

Selected artist, "Make Watercolor Great Again" exhibition, Romania 2019

Selected artist, 2nd Nepal International Watercolor Festival, Nepal 2018

Solo Exhibition "A Moveable Feast", Northart Gallery, Auckland 2018

3rd Prize, 2018 WNZ competition

Won 4th place in the Watercolour category at the Auckland Royal Easter Art Show 2017

Merit award at Mairangi Arts Centre members exhibition 2017

1st Prize and a Merit award at the AWS Annual Merit Award Exhibition 2016

1st Prize in the Watercolour category at the Auckland Royal Easter Art Show 2016

Solo Exhbition " East meets West in watercolour" Takapuna Library 2016

3rd prize and People's Choice Award at the AWS Annual Merit Award Exhibition 2015

Finalist in Hibiscus Coast annual art competition 2015

Merit Award at the AWS Annual Merit Award Exhibition 2014
Art Community involvement:
Country leader of International Watercolour Society New Zealand branch

Board of Trustee member for Mairangi Arts Centre, Auckland

Juror for various art competitions

Member of Watercolour New Zealand

Member of Auckland Watercolour Society